okay I have totally taken a break from blogging. not exactly sure why but I'm sure once summer ends and life slows down I'll be back at it. for now, I'll still be posting every thursday (even though I missed last week, bad meg).
what the heck is random thursday? only the best link up around brought to you by myself,
Lin
and
Em
.
no clue on what to write (or
vlog
!) about this week? sign up for the
weekly newsletter
and we'll give you a topic you can't resist.
grab a button and link up!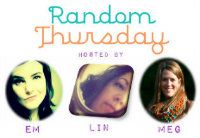 this week we are talking about tv shows we wish were never cancelled.
first and foremost, veronica mars.
I freaking adored this show. I think there are only 3 seasons and I'm pretty sure I watched them all in a month. Kristen Bell is one of my favourite actors and I thought she was awesome in this.
this bad boy is a very close second
I remember watching this last season just being so in love with every character. I was totally going to grow up and move to new york and have 5 best friends who sat around and drink coffee all day.
I got the coffee part right...
this one is more of a "I wish I could watch Lauren Conrad's life everyday..."
I love love love Lauren Conrad and wish she got her one show after the hills. it would be amazing to have watched her get to where she is now.
your turn! tell me what shows you wish were never cancelled and link up below!