what the heck is random thursday? only the best link up around brought to you by myself, Lin and Em.
no clue on what to write (or vlog!) about this week? sign up for the weekly newsletter and we'll give you a topic you can't resist.
grab a button and link up!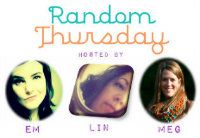 this weeks topic...



this post is soooo easy for me!
no questions asked I need three things that help me relax more then anything...
[1]
a hot steamy bubble bath... something like this...



[2]
a delicious and tall glass of white wine.
[3]
something to watch.
right now I am semi addicted to summer break.



each episode is 3-4 minutes so it's perfect to get caught up on when you only have a short amount of time.
what's your best way to relax? link up below!!