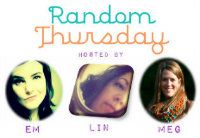 I missed last week but I am back with a vengeance! kind of. well, I'm just back... blogging has been meh lately, summer is just too busy! but honestly I love linking up/hosting RT, you guys make it awesome, HATED missing last week.

moving on! this week we want you to show us a...



I haven't done any DIY projects in forever so I'm going to dip into my DIY page and show you my three faves!

first, the classic scarf organizer. I lived in tiny apartments with tiny closets for years so I needed something that worked! this did!



I switched out the plastic hanger for a wooden one and it was perfect! check out the original post here.

another classic but my favourite thing I've made.



this used to hang in my kitchen and I always got a million compliments on it. would love to make another! can't wait to dig through my home decor in storage (we didn't take anything like that to our current house) and put it back up.
original post.

lastly, this guy.



ADORE this tank top! it's faded now but I still rock it paired with a pair of light purple shorts. such an easy thing to do and I really think tye dye is underrated!
original post here.

your turn! show me your DIY project and link up below!