what the heck is random thursday? only the best link up around brought to you by myself,
Lin
and
Em
.
no clue on what to write (or
vlog
!) about this week? sign up for the
weekly newsletter
and we'll give you a topic you can't resist.
grab a button and link up!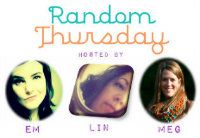 this week's topic...
too see my full list, go
here
.
I'm going to make this just my summer bucket list so it's a bit shorter.
[1]
no more sunburns.
you would think by now I would learn to put sunscreen on but at least once a year I get burnt. this year it was the worst one yet. this right here is 8 days old. it's been 13 now and it's still pretty pink!
[2]
get back into running.
I checked my
runkeeper
app last week and it's sadly been since June 17th since I've last gotten out. I've been to a few spin classes since then but that's about it. really need to get back into it!
[3]
follow fat mum slim's photo a day for July & August.
I've been doing
pretty good
for July!
[4]
start running to the beach in the evenings.
I clocked how far away the nearest beach in yesterday and it's 3.1km. what better way to spend the evenings then going for a run then jumping in the ocean!?
[5]
STAY ON BUDGET!
how many times can I honestly say this...
okay tell me 5 things from your bucket list and link up below!