what the heck is random thursday? only the best link up around brought to you by myself, Lin and Em.

no clue on what to write (or vlog!) about this week? sign up for the weekly newsletter and we'll give you a topic you can't resist.

grab a button and link up!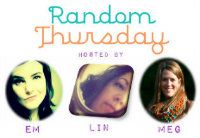 this weeks topic...



since I'm on my ipad this won't be any sort of fancy post. I would like to forewarn you that not one of these are healthy.

app - artichoke and asiago dip



(not my pic, it's from here)!
it counts as a recipe if you buy the above and about a cup of shredded cheese right? anytime I bring this anywhere people are asking for the recipe. mix the artichoke & asiago dip with a handful (so technical) of your favourite cheese, (mine's marble) and pop in the above until it's heated through. sometimes I sprinkle a bit of cayenne pepper one it and bake it in a bread bowl, maybe sprinkle some more shredded cheese on top. yum!

main - cheesy chicken enchiladas



these bad boys are my all time favourite meal to make. the recipe looks intimidating because it has a lot of steps but I promise you make it once and it's easy peasy lemon squeezy.

dessert - cake batter cookies



I am practically drooling looking at these. I can't tell you how good they taste! and you just throw in box of cake mix, a few other things and you're done. bake time is 10 minutes. can't beat that.