linking up with tamzilla and abbey as per usual!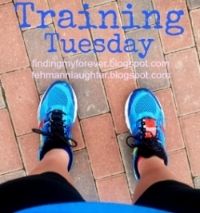 I'm pretty sure this will be a short training tuesday. I feel as though I hit my 5k race mark and just stopped. I'll find my motivation again someday!
first of all, 7 day slim down, not a TOTAL fail, but not a win that's for sure. I actually stopped documenting it. I like potatoes for supper too much.
I know I did a few walk/runs last week, and maybe half a workout here and there but I honestly can say I didn't do anything worth mentioning.
except for monday! Tam mentioned a couple weeks ago that she was doing an interval thing, 50 seconds on, 10 seconds off, pyramid style. so of course I asked for her secrets.
did it Monday and holy hell it was the best workout ever! attempted it Thursday and just didn't have the right mentality to do it but yesterday a co-worker and I did it at the gym. sweat our non-existent balls off. best workout of life.
basically you pick 10 random exercises and do them pyramid style. do workout 1 & 2, then 1, 2, 3, then 1, 2, 3, 4, etc until you get to ten.
not even kidding I haven't worked this hard in a class. and I always quit stuff when I'm on my own. it seems like it will last forever but with the tiny breaks it's over quicker then you think.
we only have about 40 minutes so we just picked 10 exercises and did it 35 seconds on 10 seconds off. someday I will make it to 50 on, 10 off!
from my memory this is what they were:
1. push ups
2. tricep kick backs
3. elevated lunges stepping on a bosu ball.
4. dumbbell row.
5. burpees with weights. worst things of life.
6. abs. we did bicycle crunches.
7. squats on a bosu.
8. overhead press.
9. tricep dips.
10. plank.
I can't remember if this is completely it but it's some version of this!
let me know if you try it :)