what the heck is random thursday? only the best link up around brought to you by myself,
Lin
and
Em
.
no clue on what to write (or
vlog
!) about this week? sign up for the
weekly newsletter
and we'll give you a topic you can't resist.
grab a button and link up!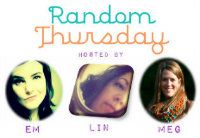 this week I wanna know:


*I would like to apologize for my lack of polyvore skills*
1.
obviously I would need this. and it would come with endless 3G.
2.
a water bottle with an endless supply of water. that exists right?
3.
the skills of Katniss Everdeen. that bitch knows everything about everything.
4.
Lukas. another obvious one. who else is gonna kill the spiders!?
5.
I am whiter then white. this would be essential.
what would you take on a desert island? link up below!