what the heck is random thursday? only the best link up around brought to you by myself,
Lin
and
Em
.
no clue on what to write (or
vlog
!) about this week? sign up for the
weekly newsletter
and we'll give you a topic you can't resist.
grab a button and link up!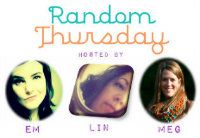 I am one of the nosiest people ever so I am pumped about this week!


and I'm coming at you vlog style this week! I would like to apologize in advance and how not interesting my house is. as I say in the beginning, we are renting this of family short term so it's hard to put a lot of time and money into a place you will likely move out of soon. so ya, enjoy!
ps. I made wine a few weeks ago, that's why there is 30 bottles sitting on my kitchen table.
I love wine but I usually don't have copious amounts just chilling there.