woo for another training tuesday!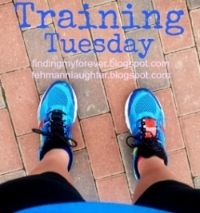 no vlog this week but I had a pretty good week!
tuesday
TRX, my new found love.
wednesday
I did a 13x1 sprint for 26 minutes. freaking loved it! ended up going 5.8 kms.
thursday
spin class. yup, my cooter still hurts.
friday
coworker and I went out at lunch time to a trail right by work and did a sort of bootcamp workout.
we'd do trade offs on different exercises for 45 seconds each. if you have any ideas for outdoor workouts let me know! it turned out to be so much fun!
saturday
not much of anything. just the ab challenge.
sunday
the best day! went on a 5k walk followed by an hour at the park with my sister and niece and then did a 10k bike ride with my dad!
4k run in the BEAUTFUL outdoors!! sooo nice out this weekend/monday I couldn't get enough!
so that's about it for my training tuesday but I do have a question, what's your opinions on a heart rate monitor? I've been thinking about getting one but they are kind of an investment so I would love what you think. do you have one? love it, hate it? ever use it?
happy tuesday!