what the heck is random thursday? only the best link up around brought to you by myself,
Lin
and
Em
.
no clue on what to write (or
vlog
!) about this week? sign up for the
weekly newsletter
and we'll give you a topic you can't resist.
grab a button and link up!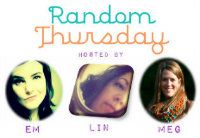 this weeks topic..
can I just say how much I love this topic? now I royally SUCK at organizing. I like the thought of it and I wish I rocked at it but I don't. however I do love reading about how organized other people are so I cannot wait to read all your posts!
I'm stealing Pinterest ideas.
I only wish my drawers looked like this. I swear I buy enough plastic dishes from the dollar store but it usually only lasts a week or so.
source.
next up is this amazingness. the measurements inside the door are such a good idea and not that I ever get mail but I really really want a shutter for my letters?
source
.
lastly I'm going to have to go with my dream pantry. I need to stop putting my baking flours and sugars in Tupperware and invest in some super cute glass dishes!
source.
that's it for this week, I cannot wait to read your tips, I hope the are better then mine!