what the heck is random thursday? only the best link up around brought to you by myself,
Lin
and
Em
.
no clue on what to write (or
vlog
!) about this week? sign up for the
weekly newsletter
and we'll give you a topic you can't resist.
grab a button and link up!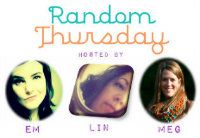 this weeks topic...
I used the awesome polyvore to create this. I'm new to this polyvore crap so cut me some slack if it sucks!
1. casual tee.
2. floral scarf. can't get enough!
3. coloured jeans! new found love. I only have one pair, almost this exact colour that I wish I could wear everyday. but that's frowned upon.
4. shades. I got the knock of ray-ban style ones so they look kind of like this..
5. bright coloured purse. I need to stop buying purses but I love this one! aldo, as per usual.
6. toms toms toms toms toms!!! I bought ones that look like these (the walmart version but still awesome).
what's your go-to spring apparel?? link up below.