what the heck is random thursday? only the best link up around brought to you by myself,
Lin
and
Em
.
no clue on what to write (or
vlog
!) about this week? sign up for the
weekly newsletter
and we'll give you a topic you can't resist.
grab a button and link up!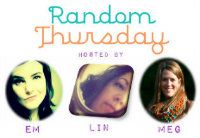 this week I want you to tell me all about your...

so I was browsing through pinterest as per usual and found a bunch of things I pinned forever ago and since I still love them


this is hands down my dream bath. I could live in the bath. it is not unusual for me to crawl into one for 3+ hours. no joke.
and can we just take a minute and think about how awesome this would be in your basement...


these two remind me of a rustic feel or like antique-y or something. I dunno but I love em!
I tried to find my dream kitchen but I couldn't. it would be big and open and functioning. I plan on baking a million times over with any offspring I may produce. with a huge fridge I can cover with all the shit they'll take home from daycare!
okay I just went on a pinning spree and can't post them all! check out the rest
here
and then tell me what you would put in your dream home and link up below!