can I just say that training tuesday is seriously one of my favourite times of the week? I love that I can tell you about a tiny milestone and have so many amazing people hypothetically pat me on my back. I love that I can just keep you guys in my pocket and take you whenever I need inspiration!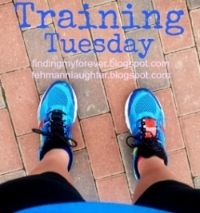 as per usual I went all vloggy on you guys because I was busy and didn't have time to type up a post!
also. just noticing how awesome my grammar is in these vlogs... whoops!
I mentioned the
tone it up
girls and their
ab routine
I've been loving. definitely worth it to have a look see!
if you want to take any of their workouts with you on your phone, download the adobe reader app. I know it comes on the iphone so I assume it's on android too. you can go to the printable workout on your phone and select 'open in adobe' or download and save the file to your computer and transfer it to your phone. let me know if you need help!