time for another training tuesday (technically it's still monday...)! sorry if I do wayyy too many link ups but I love the topics sooo ya.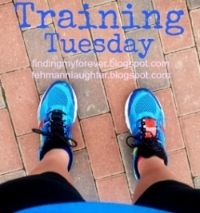 not going to lie had a pretty shitty last couple of days training wise. I am staying at my sisters while she is away (which means I'm 30 seconds from work. ah-mazing) BUT it also means that I am within 4 minutes of a million fast food chains. bad meg.
according to my run keeper app (which I can't recommend enough if you are a newbie to running) I ran/walked 12.14 kilometres (about 7.5 miles) since last tuesday. not my best. the week before it was almost 20 but still! 12 is better than none right?
not sure what happened but I just lost my ambition! I went thursday with a friend which was nice, good to have someone pushing you but I guess I thought I would do better then I did. I skipped saturday and didn't get out again until today.
BUT I am finally going to go to the gym tomorrow! I'm pretty sure I have been saying that for years now. considering I have had my membership since february I have definitely been saying it for months. a few girls at work are going to a TRX class tomorrow and they have been telling me to come with them so I am finally getting my ass in gear and just going!
ps. I had no clue what a TRX class was so I googled it. there is a good chance I will not return from class.
on another note! I am signing up for
tone it up
's bikini series. basically it's 8 weeks of working your ass off to get bikini ready for the summer. not saying I will be their most dedicated member but hey, I can't pass up free personal trainers. let me know if you sign up and we can kick each others ass to get moving!