it's that time of the week again! you know the drill, sign up for the weekly newsletter, get a kick ass topic and link up with us for random thursday!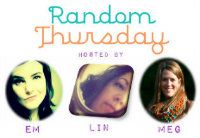 this week we are going to tell you all about our



since I'm a lazy ass I decided to do a vlog for you all! if you'd like to see me be a rambly mess, drop my phone, and adore smudge, press play!



if you don't want to press play, read on.

1. foundation.
2. bronzer.
3. eye liner.
4. mascara.
5. self tanner.