if you follow me on
twitter
then you know that I recently started doing a running program. now I'm no expert but hell, that's what training tuesday is all about right! no expert status needed. if you are someone who has decided to get up and do something to make your life healthier then this link up is where it's at yo!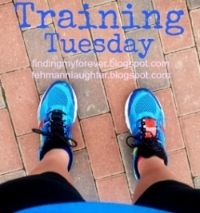 I chose to go with an app to help me out and keep track. after looking around for a bit I went with
runkeeper
and love it! they have a bunch of different programs for you to follow so you just pick one, pick a start day and bada boom bada bing you're in!
I chose to train for a 5k walk and started last sunday on march 31st. you go every second day so it's totally do able. I missed saturday due to snow (YES, snow! goddammit mother nature it's april!) and because my sinuses decided to be ass holes. I just went sunday and monday to make up for it.
and I don't think run/walking while you have a cold make it's any worse. not that my cold is better after my workout but it's definitely not worse.
as for workouts... I picked up my gym membership! that counts for something right? I made it to the front desk at the gym but have yet to actually go in. maybe today is that day! I am going to look for an arms work out once I'm done writing this and hopefully I will get there at lunch.
that's it! that's the extent of my training. not a lot but it's a shit load more then last month!