holla! join me, lin, and em for some random thursday awesomeness.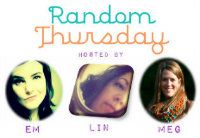 this weeks topic...
so I'm not a happy camper right now. I did a vlog the other day on this topic and was pretty pumped to upload it! I did a vlog for a random thursday post awhile ago and never had the guts to do it since.
stupid iphoto wasn't recognizing my phone when I plugged it in so I did an update and we are going on 45 minutes and I am only here...
grumpy!
anyways, you guys get to miss out on my super embarrassing vlog for now.
moving on.
I only have 2 books that turned to movies that I love so I'm kind of cheating this week but I've been thinking about this since monday and I honestly don't have another I love so two will have to do!
hunger games
I cannot say enough good things about this trilogy of books. I love the writing, I love the characters, I love the plot, I love everything.
when they announced they were making it into a movie I was so pumped but at the same time so nervous! sometimes movies butcher a good book.
not here folks. seriously go and watch this movie. I've watched it three times and read the books twice.
I'm a die hard fan.
my sister's keeper
going back a few years but this book and movie totally stick out in my mind.
I watched the movie first (so technically breaking the rules again) and thought it was a really sweet albeit devastating story. oh ya, I'm throwing in a sophisticated word here.
I figured if the movie was that good the book must be just as good too right?
wrong.
book blew that movie out of the water. if you've seen the movie read the book!
ya it's the same gist but the ending will have you screaming at the fictional characters.
loved it.
that's all I've got for you!
maybe next week I'll do a vlog and have it actually work out :)