it's that time again woot woot!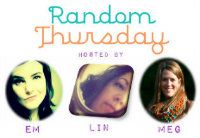 this week's amazing topic is...
alright. I'm just going to start listing and see how far we get!
smacking. just can't deal.
chipped nail polish. literally minutes after I paint my nails they are chipped.
being super comfy and having to pee. nothing worse!
shows that are on past 9 pm. what the heck is with big brother canada being on 11pm until midnight! ain't nobody got time for that!
internet service providers. it can never just take one phone call to get what you need done. every customer service rep has a different story.
cell service. I have bluetooth in my car and an hour drive to work each way, perfect time to get said internet switched. nope. this island likes to have the most unreliable service ever.
fat cat who sit on your keyboard when you're trying to write this most. who am I kidding. love this fatty. this most can wait.
hockey. love that lukas loves it so much but come this time of the year I can't wait for it to be over so I can have him back!
daylight savings. hating driving to work in the dark again. however, loving the long evenings.
okay. I need to stop at 10, this is getting ridiculous!
tell me your pet peeves, link up below!