welcome to random thursday! we would love it if you linked up with us :)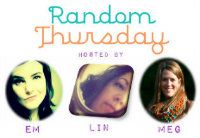 this week I'm about to tell you about...
I'm totally going to pull strings for this one. I am mostly talentless. let's see where this takes us shall we!
crochet/knit
if you follow this blog then you know I do both of these things but a lot of people don't know it. actually when I tell people that they think it's crazy that a 23 (almost 24!) loves chilling in front of the tv and knitting.
it amazes me that I can make something kick ass out of a ball of string.
basketball
likely have zero talent left in this area but when I was younger I had tons. freaking loved that sport growing up. it was my escape from everything I wanted to get away from. that is until it wasn't anymore.
crafts
now I don't have any talents in the creativity department but you show me something and I can make it. if someone gave me a million bucks to spend at michael's I would be in heaven forever.
sewing
took a clothing class in high school and absolutely fell in love. made the flower girl dresses for my sisters wedding which was pretty exciting.
they looked better in real life I swear :)
what are your hidden talents??