thursday always sneaks up on me!
I'm going to be a little selfish here for a sec...



link up with lin and em for some awesomesauce.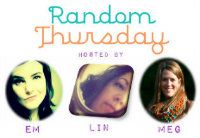 this week we are taking about...




I think my favourite one would be when we went to disney world when I was five. we actually flew home on my birthday and the pilots took me up front to see the cockpit which was pretty frigging cool.

my mom and I probably hung out the most down there. my siblings were old enough to do the 'big kid' rides and I was just interested in meeting all the characters and getting signatures. mom took me everywhere and we went on all the little kid rides together. so much fun! I wish I had a hideous picture of my 5 year old self to share with you. not kidding about the hideous part. I was an ugly ass kid.

we stayed in a house with a pool which was so amazing! wake up and go for a swim, have breakfast outside in amazing weather everyday. so jealous of everyone that lives in year round weather like that.

the last day we all got up and jumped in the pool with our pyjamas which was quite the sight! I need to raid my parents photo albums and show you some pics!

that's it guys, what's your favourite childhood memory?