I dare you to link up with em, lin and I. all the cool kids are doing it!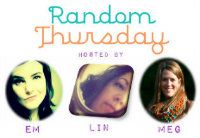 as soon as I got the random thursday newsletter I couldn't believe the topic this week! I was actually just thinking of some ridiculous fears the other day.

first of all, the one I've had my whole life is people touching my neck. I cannot stand it and it drives me nuts. it's not like I think people are going to choke me to death or anything I just don't like it. I think growing up I just always hated it and now it's grown into a personal space thing. some people have zero personal space and love being close and touchy. me? complete opposite. I'm surrounded by my personal bubble and you are not invited in. sorry.

another that I think started after Katie was born is choking. every since that little fart was born I always got anxiety when she ate. any coughing at all and I was sure she was a goner. I know ridiculous.
even now that she has teeth and knows what she's doing I hate watching her eat.

and it's not even just with her. I had a dream my sister choked and I was trying to dig out the food and just kept pushing it down. like seriously what's wrong with me.

a lady I used to work with choked on roast beef one day at work, like legit couldn't breath for a second and had to reach down her throat and pull it out. terrified the fuck out of me. just happened so quick!