woo it's thursday again! and we all know what that means!!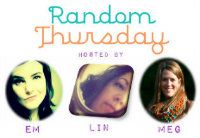 pour yourself a beverage, grab the button and tell me about your...

I've actually been trying to be really stingy with my money because I'm not feeling like I'm saving any, but let's jump right in.


[1]

I'm going to go for the most obvious one first, annndd it's not really that frivolous because I really needed it but I think it should be included!

my car.

considering it's the most expensive thing I ever bought, it should be included.

[2]

does coffee count? I usually buy a coffee every afternoon so that's kind of frivolous right?



[3]

the beauty that I am typing on right now I suppose could fall into the frivolous category but considering I use it 8 million times a day I consider it to be a very valuable investment. my iPad of course!



[4]

blistex. exciting I know. my lips have been crazy dry and chapped lately so blistex is my lifesaver.
*side note* any lip chaps you can't live without? let me know!



[5]

lastly, I would have to say the ingredients to make the most delicious cake pops ever which I sadly did not even take one picture of. I tweeted that I was making them and snapped a pic of my cake pop maker but that was the end of it.
*another side note* how in the hell do you get the sticks to stay in the cake pops when you dip them in chocolate!? mine ALWAYS go through or the cake comes off or the chocolate is too thick or something! any suggestions here would be amazing.
tell me your last 5 frivolous purchases and link up!!