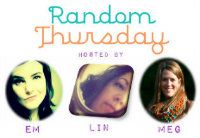 annnnd for this weeks topic, let me tell you about my...
[1]
justin bieber. yup, I'm throwing this out there right now! j biebs gets so much hate but in all honesty, love his music and his movie made me fall in love with him. we said embarrassing right!
[2]
adam brody. fell in love with this nerd during his OC days. he's a hottie!
[3]
kevin james. he may not look like a male model but holy hell that man is funny.
alright guys, I'm struggling with this post! I'm sorry! I did not have the best day and I'm still kind of feeling like crap but I did the best I could!
happy thursday!