I haven't linked up for 10 on tuesday for wayyyyy too long.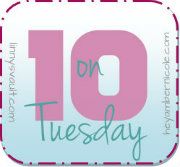 [1]
I need this weather to eff off. I'm sick of snow, I'm sick of cold, I'm sick of getting stuck. and I'm sick of being scared I'm about to get stuck.


[2]
I can't wait for my own bed. I came in to my sisters sunday because I knew it was going to storm. I did not know it was going to last two days. I love staying at my sisters but hate not being prepared for it!


[3]
I'm rewatching last weeks Big Bang where Sheldon tells that guy with the lisp that he is sleeping with Amy. best. show. ever.


[4]
I miss Luke. ya two days is nothing for a lot of people but it still sucks. and he won't be home tomorrow evening so I won't really see him until he gets home around midnight.


[5]
I can't believe I'm only on #5.


[6]
did you sign up for the random thursday newsletter yet? it just went out today and I pretty much piss my pants every week at how funny it is.


[7]
the walking dead starts soon and they made an app where you can zombie yourself. it's terrifying.





[8]
speaking of shows. big brother Canada (first season ever!) is airing the end of February and I cannot freaking wait. unreal show and having Canadians will be awesome. I hope they don't make us look like huge hicks though.


[9]
I'm obsessed with my newcar. like majorly. I just want to drive it all the time. another reason I think this blizzard is pissing me off so much.





[10]
I need a new book to read. and by read I mean listen to. audiobook style. I love the morning radio show but they suck when it comes time to go home so I'd love to have a good book to listen to on the way home. any suggestions?


did you link up for 10 on tuesday? happy tuesday!