welcome back to random thursday!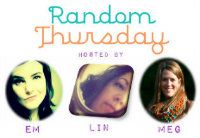 this weeks lovely topic is...
let's be honest, if I was queen for a day I would pass a law that said I was queen everyday but I think that's breaking some sort of rule.
don't hate but I am going to make this an extremely selfish post. I'm sorry
[1]
if I was queen for a day... I would buy a whole whack of shit. yup I'm being selfish here for a second. I would pay off my car, my sisters and brothers and dads and buy myself a beautiful house. alright, I'll try to spread the love.
[2]
if I was queen for a day... I would pimp out my town. new amazing rink, new amazing school, better gym, outdoor crap, the whole nine yards. this place rocks. we are surrounded by water, everything is beautiful but we could step up our infrastructure.
[3]
if I was queen for a day... I would through out some ideas for a couple new laws. such as no jammies at walmart, if you drive 10 under the speed limit on a beautiful day the car behind you is allowed to ram into you AND workplaces should offer free lunch. always. I forgot to bring my lunch a couple times this week and it sucked.

[4]
is I was queen for a day... I would make wine dirt cheap. and it would have to stay dirt cheap forever. but I wouldn't want the wine makers to not make any money so there would be some sort of loop hole that they still made the same amount of mulah but I got to pay less.
how would that work you ask? beats me, ask my minions.

alright ladies that's all I can think of! what would you do if you were queen for a day?
let us know and link up below!