hey hey hey!

I am so excited to be co hosting this week with Lin and Em!

check out how amazing this new button is.. Lin is one talented lady.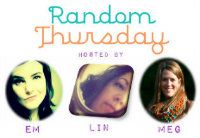 alright let's get right into it! this weeks topic...
tooooo much crap!!
I hate throwing crap out.
(1)
sample products. I've signed up for a few different beauty boxes over the past couple years and even the super shitty products I get I hate throwing them out. they always send high end shit so I feel like I will miss out on something if I throw it out!
(2)
yarn. everytime I see a cute yarn I always think of a million different things I could make with it and I usually never end up making anything.
or I make something with it and have a tiny little ball out but for some reason I always save it.
what if I need to make a tiny hat someday...
(3)
wine bottles. random I know but I plan on someday eventually making my own wine. you know how you can go into a store and make your own wine and basically you give them 50 bucks and they do everything for you and you get a butt ton of wine? that's what I wanna do.
I love wine and it works out to be like 4 bucks a bottle. can't go wrong.
(4)
clothes. every couple years my mom will go through all my clothes with me and force me to throw away/donate as much as possible.
I hate doing it and I always think that I will someday NEED that certain shirt. even if I haven't worn it since high school.
(5)
nail polish. been pretty obsessed with it probably for about two years now. I don't buy expensive stuff though. I have one OPI and only because it was a gift. the rest are all under 3 bucks max.
make sure link up below and sign up for the weekly newsletters!
I will leave you this fantastic picture of every dogs dream
happy thursday!