link up link up link up!
do it just do it.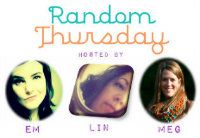 this weeks amazing topic...
soo considering the weather has been -30 here the last few days (nope, no typo...)
yup it feels like -30. that shits cold.
so! as I was saying above, my first order of business would be to buy some toasty winter boots!
I'm thinking some bogs. have you heard of them? they aren't the most attractive thing ever but they are waterproof and super warm. AND they are like memory foam. they mould to your feet, how cool is that!
I'm kind of thinking about getting these ones and finding $100 would make my life a ton easier!
be honest. are they hideous?
so I think if I actually FOUND the $100 I would try to figure out where it came from. like if I found it at work or someones home or some where people are then obvi I'd look around and ask people.
but I mean if I found that shit chilling in the middle of a field than it's going right in my pocket.
so what would you do if you randomly found 100 bucks?
make sure to link up and if maybe even sign up for the newsletter!