who sucks at blogging? this guy! well technically I'm a girl. but you know what I mean.
I did just post on Thursday but I wrote that last Tuesday which means it's almost been a whole week since I wrote.
I was going to tell you about my weekend but basically I laid on my couch Friday evening, cleaned my house/ took down decorations Saturday day and then drank a bottle of wine and went out that night. annnd Sunday was spent back on my couch. ya can't really write a whole post about that boringness.
however. I hate taking down a christmas tree. this was the first time and I actually didn't really have to do anything (Luke took it down and vacuumed everything after) but still it was not a fun time.
the tree had died sometime even before christmas day so the needles would fall off if you breathed in its direction. this is what it looked like after it was drug out.
yuck.
worked sucked today. nothing specific happened but the first monday back after almost two weeks off blows! it was a long ass day.
holy crap this is a pointless post.
have you heard I'm cohosting random thursday now with
Lin
and Em!? my first one is this week and I am pummppppeedddddd. the topic this week is items I often hoard. that might be a long post, ask my mom, I don't throw ANYTHING out!
oh! check out the new logo! snag that shit and put it in your post!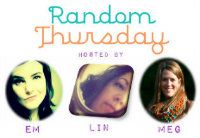 when I saw what the next topic was (what's in my purse) I totally wanted to do a vlog version like youtubers do but since you all know how stupid I look in front of a camera I figured I best not. always wanted to do youtube videos though, just never got the guts for it.
also, if you aren't signed up for the
random thursday newsletter
yet then get on it!!
now. I will leave you with this picture of Smudge after he jumped into the dryer. I believe his thoughts are somewhere along the lines of:
"fuck, how do I get down from here..."
happy monday!