linking up as per usual!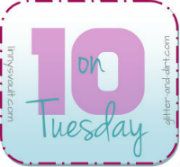 (1)
I'm sore as fuck. worked out twice and my body hates me. gotta do what you gotta do!
(2)
I had the best/laziest weekend ever! relaxed saturday, did some visiting, laid on my couch.
best day ever.
pretty much did the same thing sunday except I had Luke around to keep me company.
bestest day ever.
(3)
speaking of being healthy, I am totally making this.
it's too adorable not to want to make that!
(4)
Smudge comes when you whistle. is that weird? no matter what if Luke whistles (doesn't work when I do it) he comes and jumps right up on me and cuddles like a crazy man! and not just like a come here whistle but like a tune or something. he'll come sauntering in, find me, jump up and cuddle.
he's a cat. it's weird.
(5)
did you hear I'm vlogging for random thursday!? yup it's happening fo sheezy. it's super embarrassing but I'm just going to post it and forget about it!

(6)
this whole drinking a ton of water a day SUCKS! I have peed twice while writing this post.

(7)
I'm trying to watch the bachelor. it's on right now. and I can't do it! I watched it the year Ali was the bachelorette and LOVED it! and I watched when that Brad guy was it and then a little bit when Ashley was but I just can't get into it this time. I feel like the girls are dumber or something.

(8)
this kills me every time.

(9)
work is stressing me out. I hate that. I never get stressed about crap and even today my boss was like 'relax! it's just work!'. but I hate when I don't finish something and have to carry it over to the next day. I only took half my lunch today because I couldn't even relax thinking about the shit I had to do.
need to step it up tomorrow!


(10)
if you read sunday's post you know that
this
is happening! check it out if you want to be updated on my progress. I am going to tweet whenever I post but I am going to try to leave it at that. I promise I won't fill this blog with annoying fitness crap.
happy tuesday!