soo first and foremost it is super embarrassing that the last time I posted was last friday. I need to step it up asap!!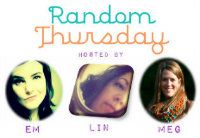 without further ado... I am linking up with myself, linny and Em! join us won't you.


I freaking love this topic.






I'm jumping right in.


greys anatomy
okay. I love greys anatomy. but I fucking hate it at the same time. sometimes I get soooo in to episodes that I have to stop everything I'm doing and other times I could care less if I see it that week or not.
I miss izzy. she was one of my faves. and lexi and mcsteamy. why they ever killed them is beyond me.


honey boo boo
this is a show that there is no way in hell I would turn the tv to but when I watch it with my sister I want to see more! the family drives me absolutely nutso. a dolla still makes me holla though.


monday night raw
if you don't know what this is you are extremely lucky. it's wrestling that is on every monday. and fake wrestling at that. google it. you'll be disappointed.


mantracker
another boy show that I hate. Lukas and our old roommate used to watch it every. single. day.
drives me nuts.


jersey shore
another show I love to hate. I am actually watching snooki give birth right at the moment and this show (snooki and jwoww) is right up there with jersey shore. every character drives me nuts but the odd time that I do watch it, I want to see more! it's ridiculous.


make sure to link up below and sign up for the weekly newsletter!