so I love my new job. it's right up my alley and it's what my 16 and a half years in school has prepared me for so I'm super excited about that. training suck but that's usually the way it goes. spent 5 hours today learning about the corporate policies and then had to write a test but other then being in a classroom for most of the day I love my actual job and what my position will be.
moving on to more and exciting things!
so as you all know I think Lin totally sucks right? which is why I would never sign up for her super awesome holiday swap.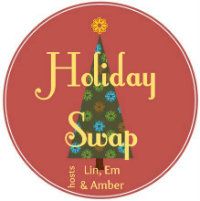 ya I can't lie. I cannot freaking wait for this! who doesn't love a present from a complete stranger. let's be honest.
also, I've been seeing talks about a mug swap on twitter and I had to check it out. LOVE coffee mugs and I was actually looking for one today for the office (new place has free coffee. life=complete)
just signed up for this bad boy and I'm pretty pumped to get a partner and start shopping!
haven't had a chance to look around Natalie's blog yet but the design itself totally sucked me in. I think my life goal is to have a blog design that I absolutely love.
I'm just going to leave this here. I want you to visualize it...