I haven't had internet in far too long but I am staying over at my sister's tonight so I'm doing the best I can to catch up on everyone's blogs!
Sarah's has to be one of my favourites so I knew I should do a quick little thursday thoughts post!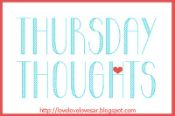 (1)
I'm so tired. All the time. I started a new job last week and it's an hour away from home so the drive sucks big time. And I get off at 3:30 but I carpool and he's not off until 4 and it usually takes a half hour for him to pick me up/get out of the city. So I'm off at 3:30 and don't get home until 5:30. Sucks.
(2)
Grey's Anatomy starts tonight! Super pumped. Although the show has definitely gone downhill the last couple seasons.
(3)
I love my new little house. I don't have any pictures yet but I definitely want to do a little house tour ish post. It's really small and it came furnished so not a lot of the decor is mine but I am adding my own touch to it.
(4)
Lin's doing a link up for the movie swap tomorrow on her blog and I can't wait to read what everyone got! I'm super nervous though that my package sucks... hopefully Clare likes it! I didn't get mine yet but it's coming from the other side of the world so I'm not worried that it's lost just yet.
(5)
I cannot even think right now! I think these are all my thoughts for the day...
Happy Thursday!