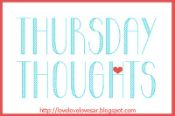 (1)
Second last day of work! Pretty excited to be done here. Loved this job in the spring but July and August has been brutally slow. Fingers crossed I get the casual position I'm hoping for! and I have a phone interview Monday so fingers crossed for that one too!
(2)
big brother's on tonight!
slightly obsessed with this show. Canyatell!
(3)
I've started knitting again. Need to get some items up on my etsy shop before winter! I found this knitted cuff in my stash.
Personally I love it. Thoughts?
(4)
Four days until Toronto!! Cannot wait to go and drink and eat and wander around downtown Toronto! We are hoping to go to the Safari and the Comedy Club but other then that just eat out, drink lots, and have a good time.
(5)
Katie's semi walking!! On Sunday my sisters and I sat in a triangle and she walked between us. She was giving her and was so proud of herself after every step! I feel like any day she will be running around by herself. Here's a ridiculously cute video of her :)
(6)
My brother is moving out west tomorrow which sucks but he will be able to come home whenever which is good! We all went out to eat last night at a really nice restaurant last night. The service kind of sucked but the food was fantastic.
(7)
Tonight I am going out to eat again with a friend I haven't hung out with in a while so that should be fun!
I think that's all for now! Happy Thursday!!