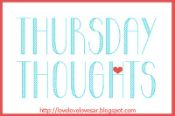 linking up with Sarah!
(1)
holy guacamole!!
big brother
. wow. dan is the man. if you're not watching this show go and download it and watch it all right now before the live show airs tonight because it just got CRAZY!!
as for
pretty little liars
. can't believe that's A! I suspected it maybe last season or the first of this one but then they completely went off my radar of being A. seriously. watch this show guys. it's whack.
(2)
I love the blogging world. Seriously. waking up to a couple new followers, and so many nice comments (and by so many, I mean I've only gotten a couple but still!) is so nice! I'm not a very interesting person so to have a couple people actually want to read this blog everyday is really nice!
(3)
Katie didn't get up until 6:20 today and usually I have to carry her or walk her the entire morning leaving very little time for me to get my own stuff done. not this morning! she just sat in the living room and played with my purse. you wouldn't think that would be very fun but she just took everything out, crinkled what she could, shook anything that made noise and just had a great time! definitely an awesome morning.
(4)
I have
chicken enchiladas
for lunch (had em for supper last night too) and they are currently in the microwave and I'm so excited to eat em. you need to try
this
recipe.

(5)

so work laid me off. well is laying me off. on September 7th it will be my last day! I loved this job in May and June, working over 50 hours a week and was able to bank some cash. July and August was a little less fun. I work at a fish processing plant so the summer months are brutally slow! Time went by sooo slowly but I was very lucky they actually kept me on.
my job from last summer might have a casual position though so that would be sweet! *fingers crossed*

(6)

I have the best 'pretty much' in-laws ever! Lukas' brothers are flying us up to Toronto for a week as a graduation gift! we are looking at flights right now and thinking on leaving the 10th and coming back the 16th. cannot wait! I won't have much spending money but I can't pass up a free trip. and they have a room for us in their apartment so accomodations are free too!

(7)

I'm literally counting down the minutes until picking Katie up! she's not a big fan of getting dropped off at daycare but picking her up is the best. so many hugs and loves :)

Happy Thursday!!