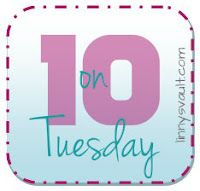 1. Katie got up up at 5:30 this morning. that's early. and I tossed and turned all night because I wasn't at home=unfamiliar bed and I kept thinking I wasn't going to hear her wake up.
2.
pretty little liars season finale is tonight!!!
ya, it deserves to be a size bigger and bold. it's the best freakin show on tv right now.
3. I've recently become addicted to big brother season - all stars. and by recently I mean yesterday. and by addicted I mean I am already past the third eviction. that's about 9 episodes in 2 days...
4. work is slooooowwwwwww... I have one task to do today and because I'm so used to not doing anything, I'm too lazy to do it.
5. there potentially a work opportunity at the place I was at last year (where my sister currently works) and I want it! I had one phone call with the boss and she said she'd get back to me but that was thursday and now I'm getting antsy.
6. I put off drinking my redbull (ya, ya I know its bad for me, boo who) until at least 1:30 so that it can keep me going until 4. it's currently 1:20 and I feel like time is crawling.
7. I'm super pumped to put Katie to bed tonight. obviously I'm pumped for the hanging out part this evening and getting to play for a couple hours but she's so busy lately that when it comes time for bed she's so cuddly! she barely wants to be held anymore, she just constantly wants to be walking around (which is awesome too!) but I love bedtime when I get to feed her and have some cuddles.
8. similar to 7 - this morning I got to start the day cuddling while she had her bottle. best half hour ever.
9. I'm craving chicken enchiladas. like now.
10. this list is kind of hard. I'm realizing how not exciting I am.... so I will leave you with this..