I love link ups! Can you tell? I'm a new blogger so finding stuff to write about is hard. I always think that whatever I come up with myself will be stupid or boring so I love link ups! They tell you what to say :)
I'm trying out Lauren's link up 'fill in the blank friday'. Let's see how it goes shall we.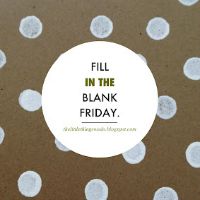 1. Over this labor day weekend I will be babysitting until Saturday night/Sunday morning and hopefully getting to the beach Sunday and Monday! and relaxing, and doing as little as possible.
2.

With the political debates going on right now, my thoughts are

not really applicable because I'm Canadian and have not been following the US election whatsoever! although, props to Obama for supporting gay marriage.
3. Today I am figuring out what I need to draw unemployment on the off chance that this casual position doesn't work out.
4. The best thing I've cooked recently was ... does reheating my take out from yesterday count? I haven't cooked anything in awhile but my mom made enchiladas and brought them over the other day. it was my suggestion so that counts right?
5. The last thing I bought was a bagel this morning. everything bagel toasted with plain cream cheese, mmmmmm.
6. The best movie I saw this summer was maybe friends with benefits? I know it's kind of old but I just saw it for the first time a couple weeks ago. I can't think of any other movies I've watched lately..


7.
The best book I read this summer was the 50 shades trilogy. first book was meh but second and third were awesome!